Khabib Nurmagomedov heeft zijn droom verwezenlijkt.
Na de winst op Justin Gaethje ging Khabib zaterdag met pensioen, waarmee hij een ongeslagen record van 29 winst- en NUL verliespartijen nalaat. Maar dat is nog niet alles. De in Dagestan geboren berenworstelaar mag zich vanaf nu ook de allerbeste UFC-vechter ter wereld noemen.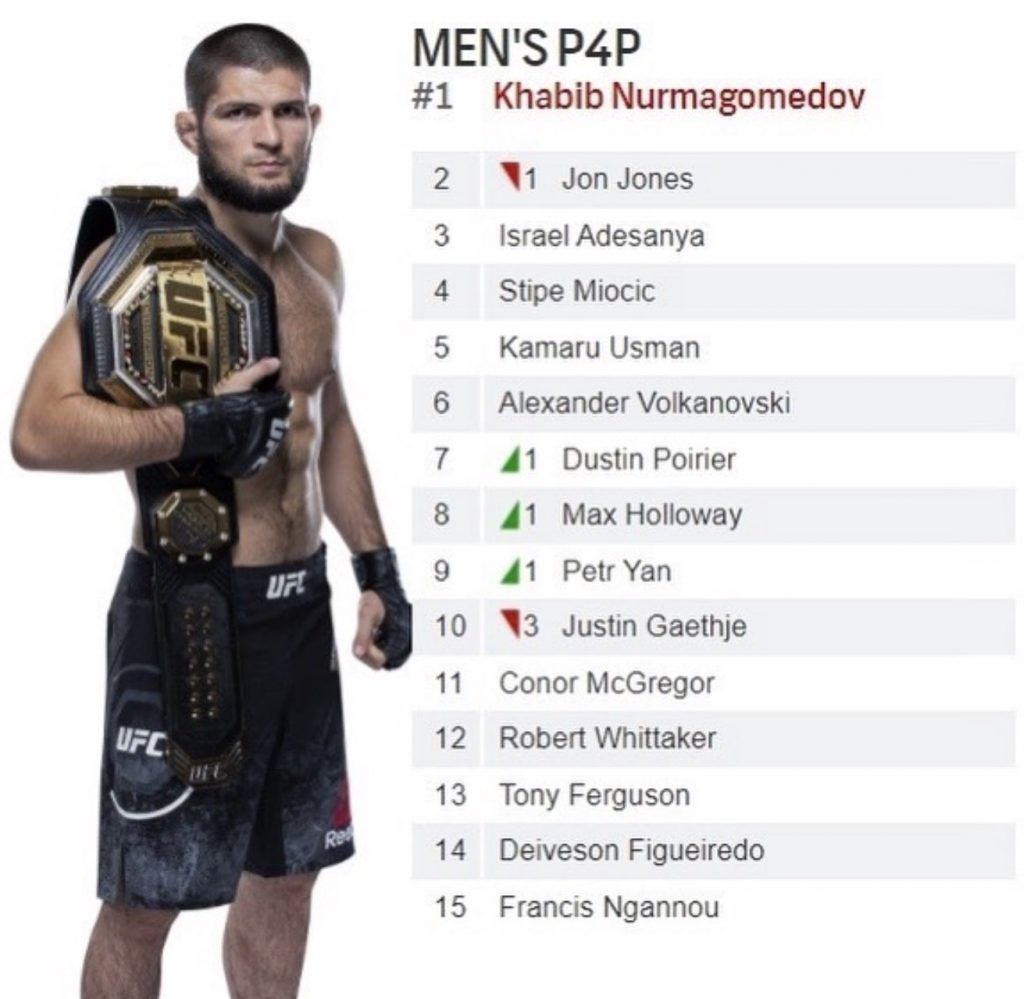 P4P
In de P4P-ranking, waarbij leden van de media mogen kiezen wie de beste pound for pound vechter is, is Khabib de voormalig lichtzwaargewichtkampioen Jon Jones voorbij gegaan. In een reactie op Instagram laat Khabib weten: "It was work of my life, I never got anything easy, and nothing was given to me because I'm nice guy. Hard work, hope and patience, this three ingredient helps me to get successful, and of course, control and advises from my Father, who invested in me a lot of time and work."
De 33-jarige Jon Jones is het niet eens met de afwaardering van zijn positie. Op Twitter hield hij een behoorlijke rant over zijn prestaties versus die van Khabib.
https://twitter.com/JonnyBones/status/1320236710433714176
De volledige P4P top 15 ziet er nu als volgt uit:
1. Khabib Nurmagomedov
2. Jon Jones
3. Israel Adesanya
4. Stipe Miocic
5. Kamaru Usman
6. Alexander Volkanovski
7. Dustin Poirier
8. Max Holloway
9. Petr Yan
10. Justin Gaethje
11. Conor McGregor
12. Robert Whittaker
13. Tony Ferguson
14. Deiveson Figueiredo
15. Francis Ngannou
Ondertussen heeft een van onze favoriete YouTubers een prachtig eerbetoon aan Khabib gemaakt. Bekijk hem hieronder:
https://www.youtube.com/watch?v=fIA51i0qdVM

[sharethis-inline-buttons]